By Adam Totafurno
Monogastric Nutritionist
Grand Valley Fortifiers
As the 2022 corn harvest commenced, the question was, would the predominately dry growing conditions, coupled with a wet August and September lead to favorable conditions for mycotoxin growth. Ultimately, any stress to the plant whether drought, high environmental temperatures, or excessive water (to name a few) could predispose the corn to mycotoxin growth. With this in mind, to date, a total number of 77 corn samples representing 49 different farms across Ontario were sampled and analyzed for DON (Vomitoxin), Zearalenone, T2, Fumonisins, and Aflatoxins (Table 1).
Table 1 – Mycotoxin analysis of corn for the 2022 crop year.
DON
Average
(ppm)
Zearalenone Average (ppb)
T2 Average (ppb)
Fumonisins Average (ppb)
Aflatoxins Average (ppb)
0.83
26
17
107
0
Min (ppb)
0
0
0
0
0
Max (ppb)
13,402
713
906
1,760
0
As commonly seen, DON represented the majority of the mycotoxin load (all other mycotoxins tested were considered "low" contamination) with an average of 0.83 ppm (similar to the 2021 crop) and a maximum of 13.40 ppm. The latter represents the potential variability of mycotoxin contamination from farm to farm. With that said, mycotoxin data was further broken down into the various Ontario counties (Figure 1).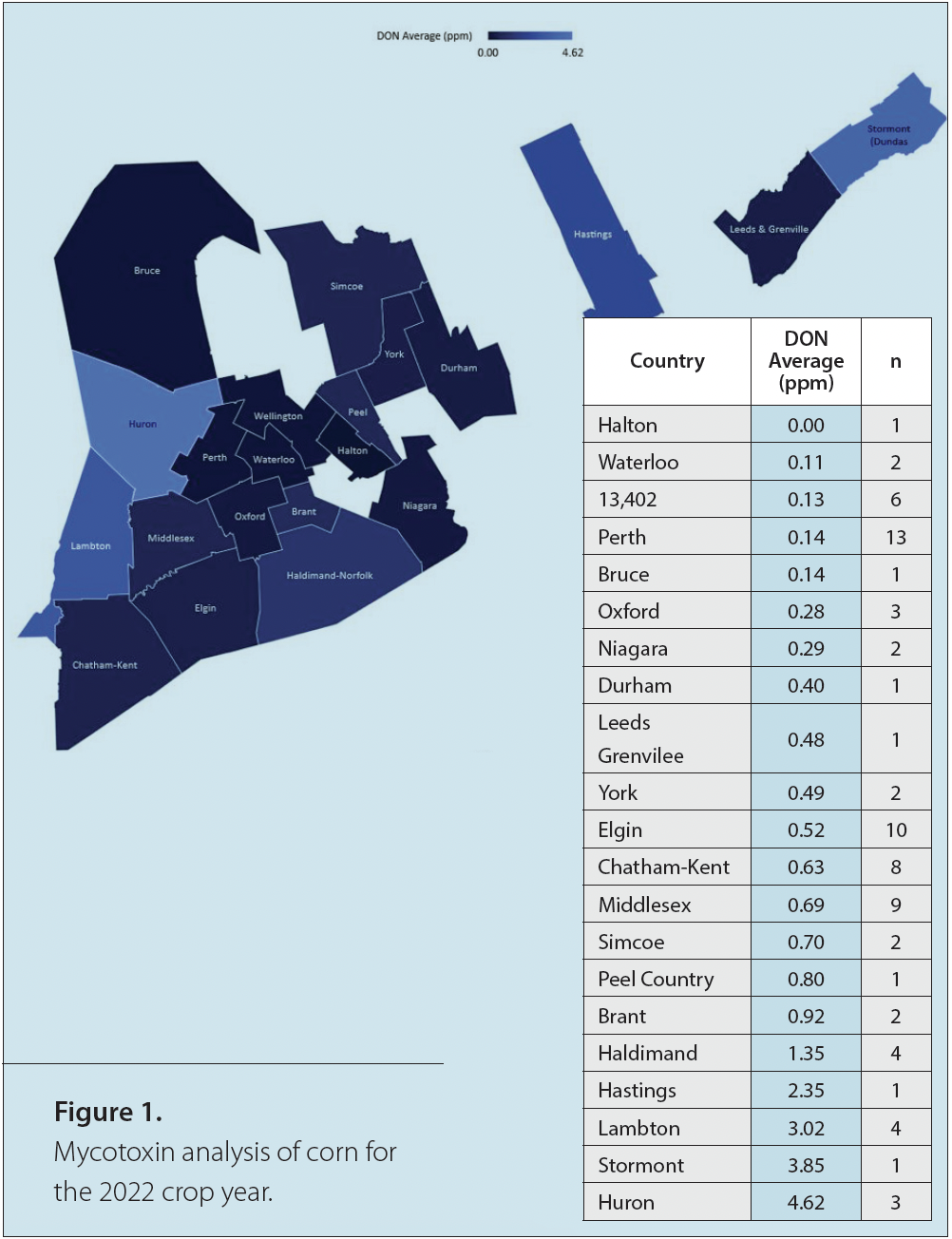 Though the majority of counties had DON levels below 1 ppm some counties (in particular Huron and Lambton), appeared to be somewhat of a "hot" spot. This does not go without saying however, that the number of samples (n) should be taken into consideration and mycotoxin analysis should be performed on your individual corn when determining a mycotoxin "control" strategy. Some common symptoms that may occur with mycotoxin contamination include but are not limited to:
| | |
| --- | --- |
| Mycotoxin | Symptom(s) |
| DON (Vomitoxin) | Reduced feed intake (an estimated 4% reduction in intake for ever 1 ppm above 1.5 ppm), reduced growth rate and impaired immune function. |
| Zearalenone | Swollen vulva, rectal and vaginal prolapse, abortion, prolonged or no presentation of standing heat and overall poor reproductive performance.  |
| T2 | Reduced feed intake, intestinal hemorrhages and impaged immune function. |
| Aflatoxins | Liver lesions (hemorrahages, jaudice, sudden death), reduced growth rate and impagred immune function. |
Presentation of symptoms will depend on a variety of factors such as overall load of mycotoxin contamination, the various number of mycotoxins present (more than one type of mycotoxin can compound effects), duration of mycotoxin exposure, stage of production and overall herd health status.
If one suspects the risk of mycotoxin contamination on your farm, it is recommended that your corn sample(s) be submitted to your Grand Valley Fortifiers Swine Specialist for mycotoxin analysis; from which we can present a recommended strategy for your farm.
This article was written for the Winter 2022 Swine Grist. To read the whole Swine Grist, click the button below.