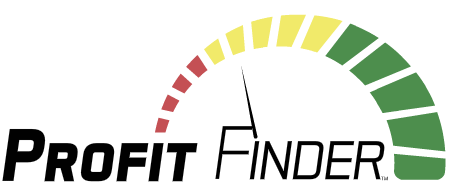 Minimize sort loss. Maximize profit.
Profit Finder™ is a unique reporting tool developed by Grand Valley Fortifiers to help pork producers evaluate weekly shipping performance from their packer. This report is designed to evaluate efficiencies in the grading window and make improvements where possible, so that more dollars can be captured and ensure producers are maximizing the grid "sweet spot".
This unique evaluation tool is helping producers compare weight vs. yield on their shipping grid and provide the frequency of which each barn is hitting the most profitable shipping window. By better understanding shipping performance, pork producers can set goals for their operations to help increase the percentage of hogs shipped in the ideal weight category. Profit Finder™ can evaluate the shipping outcomes of individual tattoos making it very useful for analyzing barn-specific results.
To date this tool has been used successfully to evaluate the shipping data on over 1.76 million hogs coming out of over 200 barns, shipping 9 different hog processing plants across North America.
With Profit Finder™ you can minimize sort loss and maximize profit.

To learn more about Profit Finder™ and how you can implement it on your farm fill out the form below to request a demonstration and to receive a sample report. We look forward to sharing this new service with you.
Want more information on Profit Finder™?
Get more info and receive a free Profit Finder™ sample report by filling out the form below.