By Arian DeBekker
Monogastric Product Category Manager,
Farmers Depot
May 31, 2021 the Minister of Agriculture and Agri- Food, the Honorable Marie-Claude Bibeau, announced that the Poultry and Egg On-Farm Investment Program (PEFIP) is now accepting applications.
The PEFIP will provide almost $647 million over ten years to support poultry and egg producers through on-farm investments. Each producer is entitled to an amount proportional to their quota holdings as of January 1, 2021. Applications will be accepted until March 31, 2030, meaning producers can apply when they are ready to make an investment.
Eligible projects include anything that helps a producer increase efficiency or productivity, respond to consumer preferences, or improve onfarm safety, biosecurity, or environmental sustainability. This includes new barn construction or upgrades to equipment like feeding, watering, lighting, ventilation, heating, and comfort systems that will promote energy efficiency and reduce an operations environmental footprint.
The Government of Canada will contribute up to 70% of the project's costs, increasing to up to 85% for young farmers, to help ensure a strong future for Canada's farms. The PEFIP offers producers flexibility to seek funding for eligible activities that started on or after March 19, 2019.
The PEFIP and the Market Development Program for Turkey and Chicken (MDPTC), taken together, total more than $691 million over ten years. These programs respond directly to requests from producer associations and provide full and fair compensation to supply-managed sectors for market access concessions made under the Comprehensive and Progressive Agreement for Trans-Pacific Partnership (CPTPP).
To find out more of what this PEFIP program offers and how to apply, please follow this link: Poultry and Egg On-Farm Investment Program: Step 1. What this program offers – agriculture.canada.ca
When I first read this, I immediately thought of the unique opportunity to enhance bio-security through Danish style barn entry, step over barriers, shower-in, shower-out procedures, barn specific boots and clothing, cleaning detergents and disinfectants.
Particularly this last reference to cleaning and disinfectant use would directly link to increased food safety and increased efficiency and productivity, by reducing risks of coccidiosis, e-coli and salmonella and pathogenic reinfection of new flocks coming into the barn.
When thinking of broilers as an example I am surprised by the differences that exist between European and North American barn cleaning and disinfecting protocols. These differences are significant and vary from full wet cleaning with detergents and disinfectants between flocks in Europe, trying to re-create the cleanliness of a brand-new barn each time before a new flock enters the barn, to barns that will leave the litter in (some US barns) so that new chicks can be exposed and build immunity to barn specific pathogens.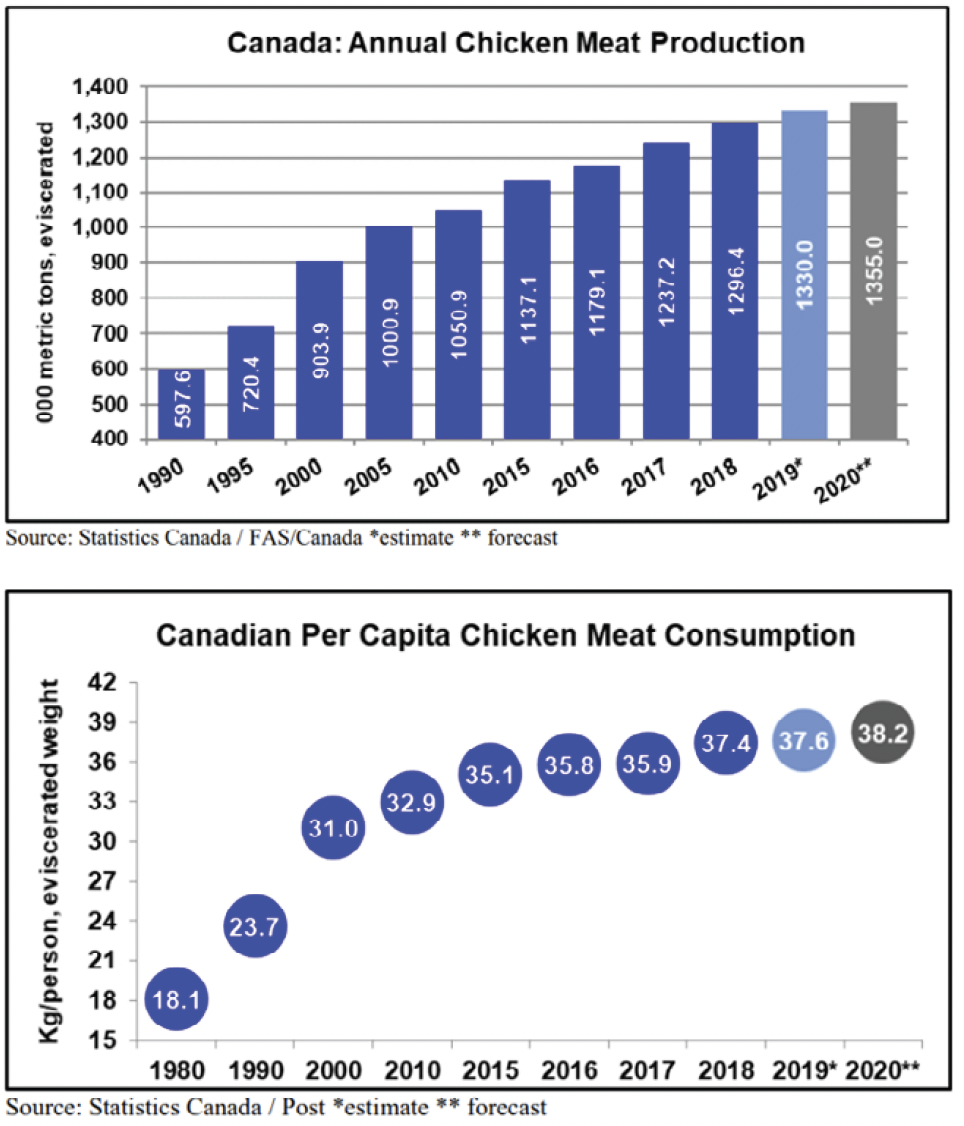 In Canada, we see a rising trend of poultry consumption per capita also an increase of production by poultry producers. As a matter of fact, the supply management system of the Canadian poultry production will typically allow for about 7.5% of all chicken meat produced in the previous year to be imported. In 2020 the Canadian population was estimated at 37,742,154 people (census). This means that taking a per capita consumption of 38.2 kilograms of chicken meat in 2020 that the annual domestic consumption was 1,441,750 metric tonnes. The overall production was 1,355,000 metric tonnes. This means that in 2020 Canada was a net importer of chicken meat of approximately 86,750 metric tonnes (6.4%).
Knowing that Canada's poultry supply management system controls its production and keeps it in line with the domestic market demand of chicken meat is part of the answer why Canadian poultry producers will not have the same rules on cleaning and disinfecting as European poultry producers have.
So, what is the correct method for Canadian broiler producers and what are the rules to comply to?
Effective January 1, 2022 Canadian broiler producers will need to follow protocols on barn washing. This is described in a new manual that offers three options for washing, use of detergent/disinfectant and for downtime.
Option 1 is similar to the current manual (pressure wash the barn and equipment annually), with increased flexibility in that a detergent or a disinfectant can be used.
Option 2 is a pressure wash of the barn and equipment annually, while a detergent or a disinfectant need only be used on the feeders, drinkers and equipment. This is to be followed by a 14-day downtime.
Option 3 involves a dry-clean of the barn and a 14-day downtime after every flock. No washing or detergent/disinfection is required with this option and less than 14 days can occur a maximum of two times in the previous 12 months due to scheduling issues.
These three options have been developed to provide farmers with more flexibility while still meeting the objectives of the washing and downtime process. The 14 days of downtime is based on the CFIA National Avian On-Farm Biosecurity Standard that recommends a 14-day downtime when no other interventions are used.
This is in dramatic contrast to how Dr. Andrea Pizzabiocca, Senior Manager Technical Services Italy at Cobb Europe describes their cleaning protocols in a January 20, 2021 article published in The Poultry Site.
Dr. Pizzabiocca says that to achieve the genetic potential of our broilers, it is important to provide them with everything they require, including the correct temperature and ventilation conditions along with a good feed and water management program. The first step to reach the desired performance is to provide the flock with a clean environment where the risk of flock infection at placement is minimal. Reducing the risk of infection requires a clear and complete cleaning and disinfection program.
The cleaning and disinfection program should be rigorous and consistent between every flock. It is important to note that even if the previous flock had no outward signs of infection or if there were no sanitary issues in the house, that does not necessarily mean pathogens were not present. Thorough cleaning must be done regardless of an outgoing flock's status. Chicks are more susceptible to disease than adults, and if cleaning is done poorly, any pathogens present during placement could create significant risks to the flock.
In addition, Dr. Pizzabiocca tells producers to apply a foam detergent and leave it for the correct time according to the manufacturer's instructions. Rinse with high-pressure water, working in one direction from top to bottom to prevent recontamination.
After that start with the disinfection. There are several chemicals available for disinfection, but for optimal efficacy, follow the manufacturer's instructions. Be aware that some chemicals have specific temperatures and concentrations at which they work best.
He concludes by saying; "Remember, the aim is not to eliminate all microorganisms but to decrease them to a minimum. Clean poultry houses are the basis for a healthy and productive flock."
Though we see a clear difference between European and Canadian practices on cleaning and disinfecting between flocks in broiler barns, we do know that Options 1 and 2 of the new 2022 Canadian manual for poultry barn washing requires detergents and disinfectants.
For cleaning and disinfecting protocols and products the team of experts at Farmers Depot can assist poultry producers and you can reach them at 1-866-527-6229 or by e-mail at info@farmersdepot.ca
This article was written for the Winter 2021 Poultry Grist. To read the whole Poultry Grist, click the button below.